Our September afterwork was dedicated to launch Plush & Nuggets' instagram account! First, a huge thank you to those of you who decided to spend a couple of hours with us drawing potato guys & discussing pictures to be published on the Instagram account. We also had a crazy brainstorming about playful office supplies and it was amazing!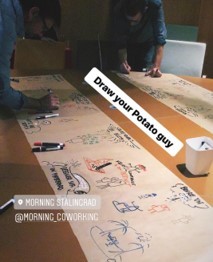 Today, the playful experiences we co-design, buid & deliver are very diversified. From finding creative ways to build action plans during a workshop to designing installations for new offices, we've been exploring all the shades of play. No matter the contexts or objectives, we always try to create set-ups and atmospheres that will engage people to start playing.
Because visuals matter!
As conceptual as Plush & Nuggets activities seem to be, we actually promotes tangibility, visual thinking, physical engagement and prototyping. Instagram is a way for us to share more visual elements and make play for organizations more accessible.
As every experience we delivered is unique, we hope for our instagram to show some of our realizations & how we design them. We also opened the instagram account because we have some content we would love to share with you all.
Because we want to share more!
On the other side, Instagram is an amazing medium to tell stories. We realized that we wanted to share with you not only our work but our adventure. Indeed, Plush & Nuggets is a entrepreneurial journey, full of meaningful moments & creative explorations.
Manea & I, co-founders, invite you not only to « follow » our journey but to be part of it. We hope that some of you will find joy in engaging with the brand, as some you already do offline.
Because we want to connect with talents!
Finally, we've been relying on an amazing network of people to develop Plush & Nuggets & deliver amazing corporate experiences. We love these relationships and hope to grow more. Artists, makers, graphic designers, tinkerers… We have a lot of projects and hope to connect with those of you who are interested.
We invite all of you to join Plush & Nuggets' journey on Instagram!
Best,
Plush & Nuggets team