During the course of « Make it Playful », a week long hackathon co-hosted by MISTI France & Plush & Nuggets, 14 participants joined us to hack everyday life objects into playful designs.
Each object was paired with a challenge that would guide hackers' ideas.
One of these objects was the coffee machine. In fact, within a company, the coffee machine place is an important meeting spot for networking, team-building and exchanging with different services. During the week, we really wanted to have a challenge around the coffee machine promoting social interaction. Surabhi & Maddie chose that challenge and are telling us more about their prototype!
___
Maker Challenge: A coffee maker that promotes social interaction
The Product: The Beam Ball Coffee Machine
The Strategy: Don't be afraid to pivot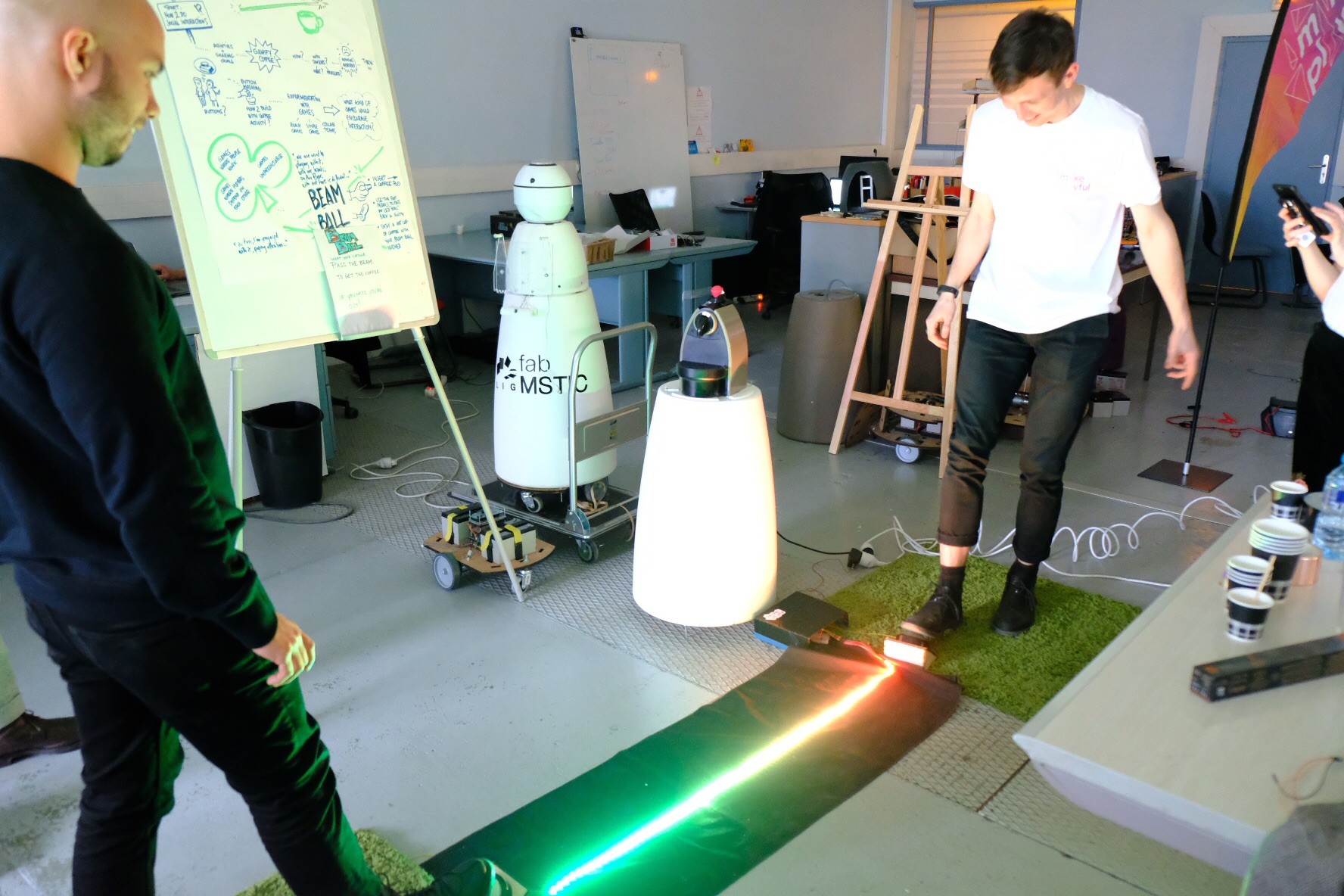 MIT mechanical engineering student Maddie Burgoyne and Plush & Nuggets facilitator Surabhi Mahapatra pivoted twice before arriving at their final product. Wanting to create a gamified coffee maker, the team designed and prototyped two game mechanics—one focused on button mashing, the other on generating static electricity—before finding a cooperative game concept that worked. To Beam Ball Coffee Machine requires users to first place a coffee capsule in the machine, then each position themselves over foot pedals that are linked with an LED strip. Players must successfully volley an LED light ball back and forth. Complete the challenge and both are rewarded with hot cups of joe they can drink while chatting about the experience.
Here is what Surabhi & Maddie have to tell us about their project.
What was your design process?
Surabhi: We built functional prototypes of each of our games and that really gave people the idea of what the game would feel like, the physical motions. We did user tests and got much more useful feedback than I think we would have with paper prototypes.  
Where do you see this in use?
Surabhi: It feels like something you would see in startups that already have a playful environment, however I could imagine, with a little less flair, it could be really interesting to have in offices to promote collaboration.
What did you take away from the hackathon?
Maddie: Seeing the importance of brainstorming to flesh out all the different ways that a product can be playful, that was something that really struck me about our work here.
During the hackathon, 7 playful objects were created. The Bean Ball Coffee Machine was only one of them and we will share more soon!