Create easily your games and activities!
Discover our customisable Play Cards designed to bring play to your serious subjects! Full of colors, these cards will be your best asset to imagine playful activities and run workshops in a professional or educational environment.
Our pack includes 98 double sided playcards, dispatched in 7 different colors, and a linen storage bag. Optionally, we can add an activity booklet and 81 stickers to help you personalize your cards!
You would like to erase and rewrite on your cards? See our Erasable Play Cards!
   Play Cards Starter Pack                                14 €
– 98 customisable cards (74 x 105 mm – ≈ 2.91 x 4.13″)
– 1 linen bag
– 1 Sharpie permanent marker
   Play Cards Toolkit                                          29 €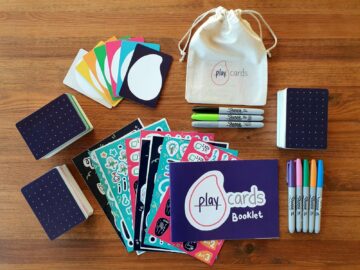 – 98 customisable cards (74 x 105 mm – ≈ 2.91 x 4.13″)
– 1 linen bag
– 1 Sharpie permanent marker
– 1 booklet of activities
– 81 stickers to customize your cards